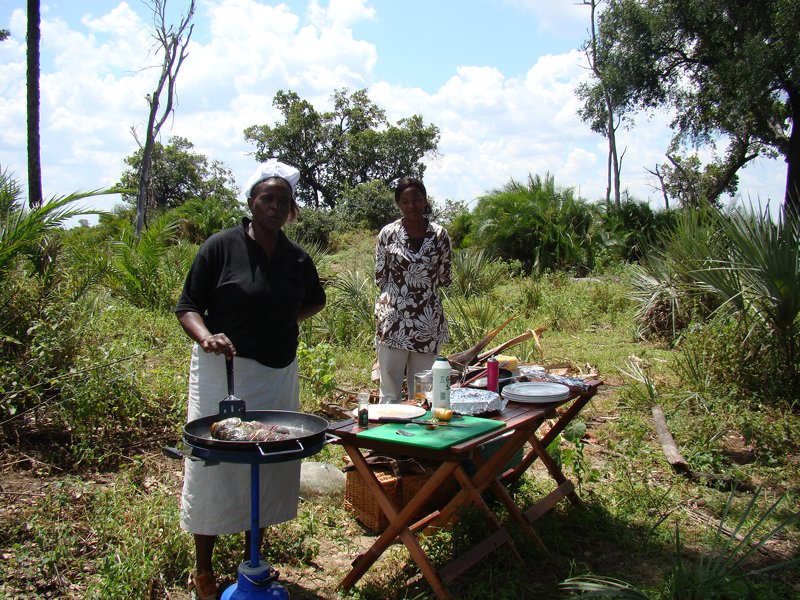 Cooking the day's catch
In the 1750's Southern Africa experienced a period of major disruption as trading and raiding for cattle, ivory and slaves resulted in war and migration. By the 1840's new organised states controlled by Chiefs or Kings had been formed, called the Tswana states.
The first king of Botswana was Khama the Great, who was baptised by Dr David Livingstone and consequently helped to change the customs and beliefs of his people. At this time roads were being built which brought trade benefits, but also brought with them Boer trekkers from the south.
By the 1850's the Batswana leaders in Botswana were starting to feel threatened by the Boers, who had been left alone by the colonial countries to farm the Transvaal area of South Africa. Their appeals to Great Britain for protection fell on deaf ears as the British could see no threat to their own interests. Fortunately for the Batswana in 1884 Germany annexed South West Africa (Namibia) causing alarm bells to start ringing with the British; fearing that if the Germans linked up with the Boers they could block all access to the African interior from the British. Thus, in 1885 the British finally granted the protection they had been asking for, and so Botswana became the British Protectorate of Bechuanaland.