The Experiences of Paul & Henrietta Delahunt-Rimmer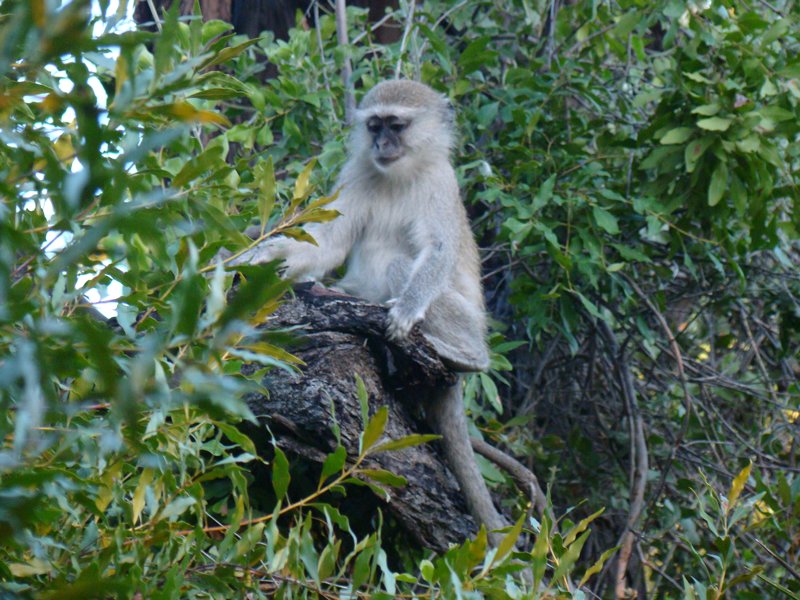 Vervet monkey
After the rude awakening by the hippos and elephants we received an early morning call from our guide Stephen. It really isn't required as no one can sleep through the bush dawn chorus. Although most of the tents in these camps now have wooden doors it is still traditional from when they were canvas flaps for a call, 'knock, knock'. At home up in the mountains on a remote island in Greece we do not have a bath so this was the signal for Henri to dive into and wallow in an old fashioned Victorian style foam filled bath tub. I stood under a very hot forceful shower outside on the tent platform. It is not unusual for the vervet monkeys to be hanging over the side of the bamboo screen watching you. It is the one with the stolen video camera you need to worry about!
The sun was still rising and a mist covered the lagoon. We took a five-minute cautious walk to the lodge area and sat down by the campfire. It was still only six o'clock and normally in these camps a light breakfast is served at this time and brunch much later in the day. We watched the sun rise over the lagoon eating muesli, fruit and muffins and drinking tea. All the bread, muffins, cookies and even the muesli are made in the camp kitchen. Stephen briefed us on our 'mission' for the morning.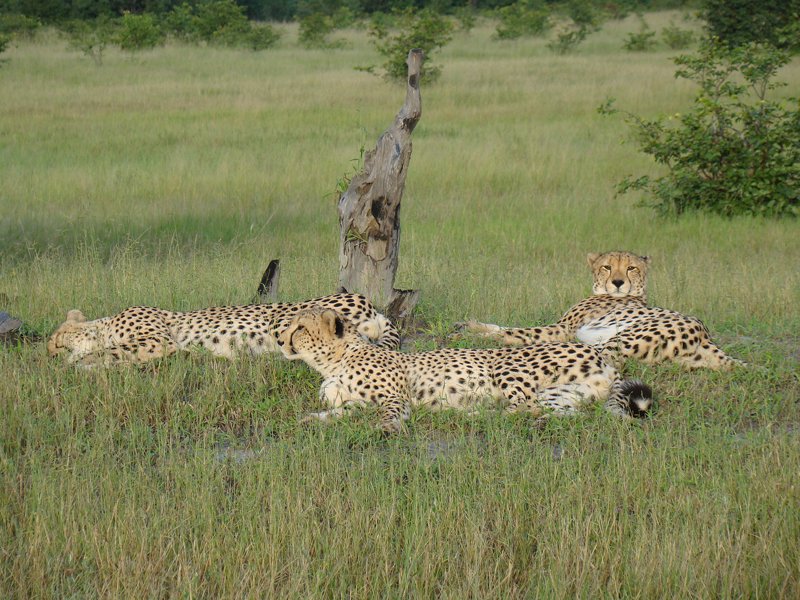 The Three Brothers - Young Botswana Cheetahs
Three young cheetah brothers had been spotted the night before on the edge of the concession. We were going to see if we could find them. We are always impressed with the time keeping on these safaris. At precisely 06:30 we set off. The tracks are very rough and the suspension on the vehicles at this particular camp is not very good. We bounced along for about an hour to the preordained spot. The question was how far had the boys wandered in the night and could our tracker who was balanced on a seat on the bonnet of the jeep see where they had gone. He could have taken the day off. They had hardly moved an inch. There they were under the same tree lying asleep in the shade using the root mound as a pillow. They just lazily lifted their heads practically ignoring our existence. The beauty of being in a vehicle apart from the safety aspect is that animals do not recognise you as homo sapiens but more as canned meat and they don't have a can opener. Stand up, lean or step out of the vehicle and the can is open. Goodbye holiday and lots of paperwork for the camp managers. As most people know the cheetah (Acinonyx jubatus) is the fastest mammal in the world with the ability to run in short bursts of up to 100 km/hr.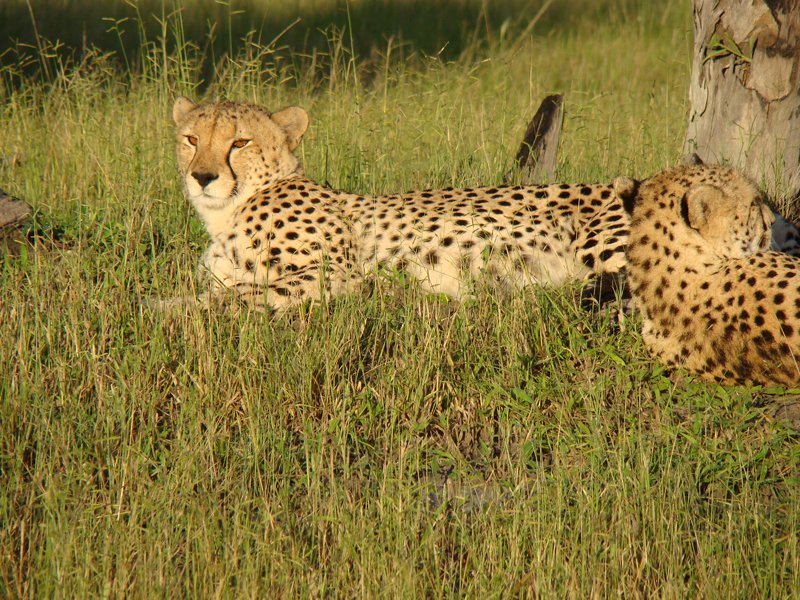 Black tear like markings
Even your muesli-fuelled adrenalin isn't going to get you up to that speed. They are a similar size to the leopard but have smaller solid spots and have black tear like marks below their eyes. The males and females are similar. Their preferred menu to tourists is antelope, impala and steenbok. They will also take other smaller snacks of hare or even large ground birds. In turn their main predators are lions, leopards and hyenas (one of the ugly five but actually the cubs are very cute). Once they have burnt themselves out on a very fast but short run they become vulnerable.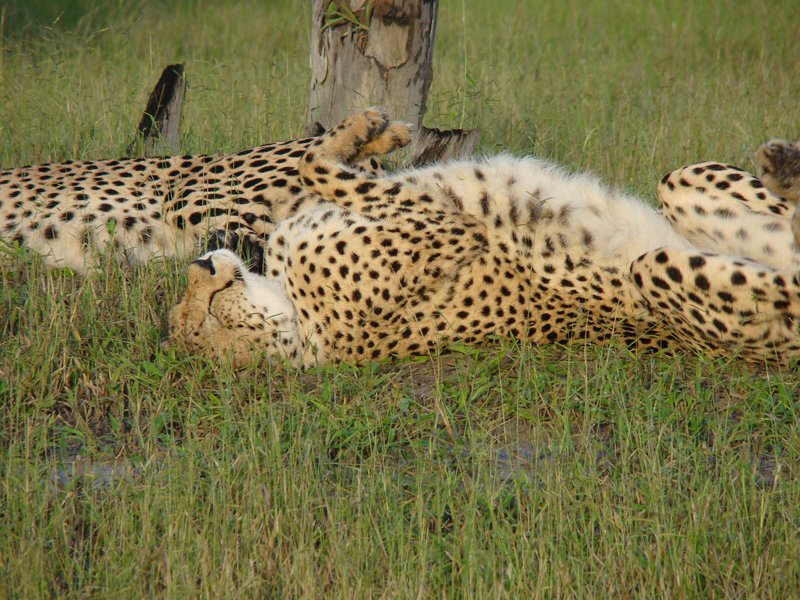 Resting before hunting
To counter this they are one of the very few large predators that normally hunt by day. After watching the boys roll and doze on their mound we went for a drive around to see what else we could find. We have never been safari 'tick list' people. We just enjoy being in such a beautiful place with such wonderful local people and whatever wild life we see is a bonus. Although the guides are too professional to show it they do sometimes despair of guests who just want to log 'the big five', 'the little five', 'the ugly five' and so forth. It is also a complete pain for any other guests who are sharing their vehicle. They will of course do their level best to accommodate any guest's wishes. The advantage of our laid back approach is that historically we have been very lucky with sightings.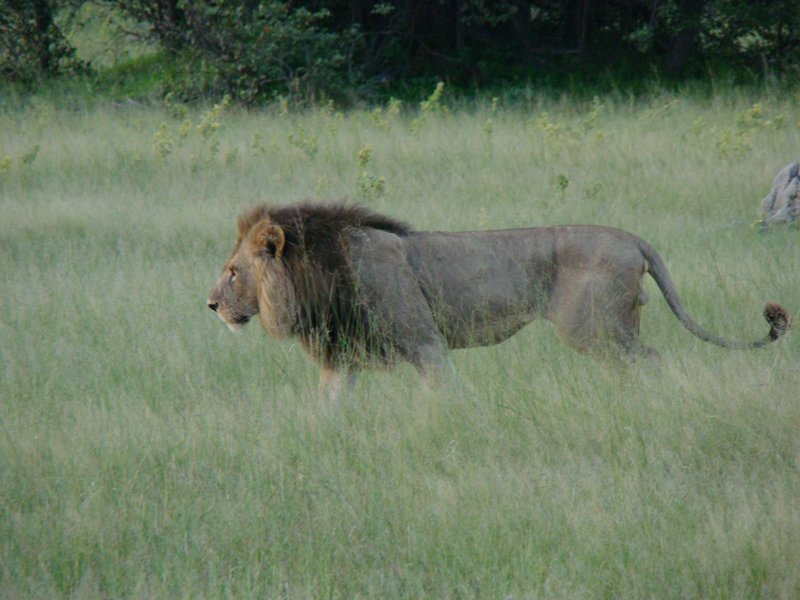 A lion hunting
On the way back to brunch we had many more sightings, including a pride of lions and as always we learnt so much about the environment from these incredibly well informed and highly trained guides and trackers.
Brunch varies from concession to concession. At Little Kwara it is a very large breakfast that is cooked to order. Complete with fruit, juices and of course the irresistible home roasted muesli. Most people by this time also consider that they have earned a glass of chilled South African Chardonnay.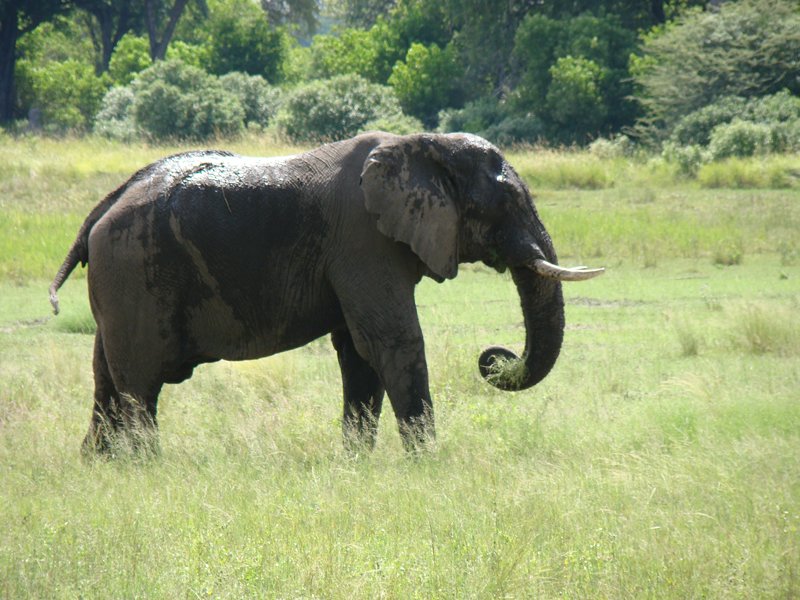 One muddy elephant
In the heat of the day most animals take to the shade and are difficult to spot so it is time for guests to take a siesta, a dip in the pool or relax in the open lounge reading a book or just gazing across the vista. Even from the lodge many animals can be seen. That afternoon an elephant had a mud bath in front of us and a group (sounder) of wart hogs wandered by. They are another one of the 'ugly five' but apparently very tasty. We were pleased to see mother and father with their teenagers. We had seen them four months previously when the piglets were very small. These mammals can also travel pretty fast when required at speeds up to 40 km/h.
Afternoon tea is yet another gargantuan meal. There are different dishes every day again mainly baked in the camp. Quiche, cheese, cakes, fruit, breads etc.