The Experiences of Paul & Henrietta Delahunt-Rimmer
You will call it your holiday of a lifetime – but you will be back.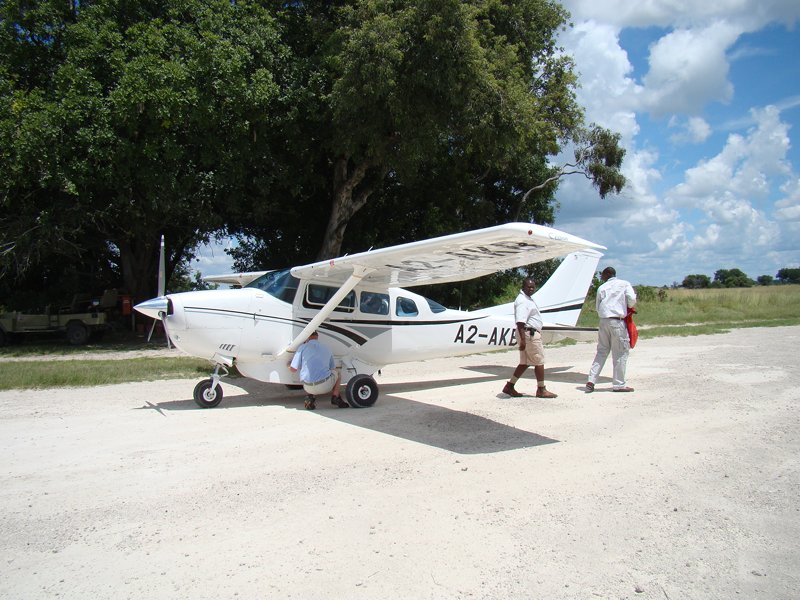 Luggage coming out of the hold
It was our fourth safari in the Okavango Delta, always to the same camps. I had visited briefly in the 80's on business and had always wanted to go back. My wife, Henri, and I went for a holiday in March 2007. We said to everyone 'we will be back'. We went again in November 2007 and November 2008. When we turned up again in March 2009 the staff at our first camp, Little Kwara, were in tears. They were in tears when we had left in November. Had they been crying all this time? I am sure it was tears of joy when we left and tears of desperation when we bounced back yet again. We had flown in from Maun in a Cessna 206 by Mack Air, owned by Stuart and Lara Mackay. This fantastic company operate 12 small aircraft varying from Cessna 208B Grand Caravan to their workhorse the Cessna 206 Stationair. They have been established since 1994. They flit around the Delta all day 365 days a year. Most people's image of a bush pilot is a chap who has just qualified and is building up his hours to go and fly 747s across the Atlantic.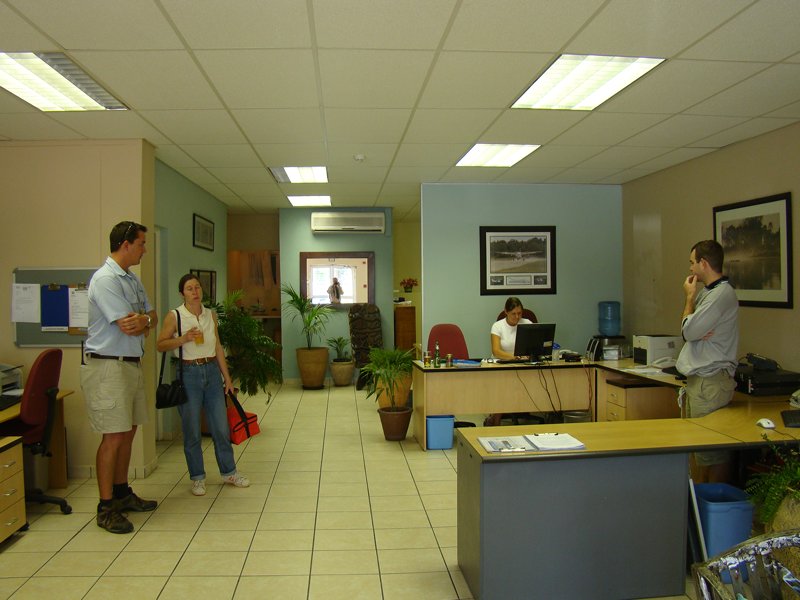 Air operations room
I am sure that this is the case with some bush pilots in the world but not with these guys. They are highly qualified, very experienced and constantly examined to maintain currency. Most of them love the job and don't want to sit in an aluminium tube for 10 hours at a time watching the automatics do their thing. This is real hands-on fun flying. Very few sectors are longer than half an hour. They get more take offs and landings (the fun bit) in a day than some airline pilots would do in two months. Michael Weyl, the chief pilot, had met us in Maun. As 'frequent flyers' (Stuart's words) with the company I had expressed an interest in visiting their operations room. As this had been my area in the Royal Air Force where I controlled 13 heavy jets all around the world I was interested to see how they controlled 12 aircraft on so many sectors a day around the Delta. It was impressive. Essentially it was one lady, one computer and one Excel spread sheet. In all the times we have flown with them they have always been exactly on time. We still don't know how they do it!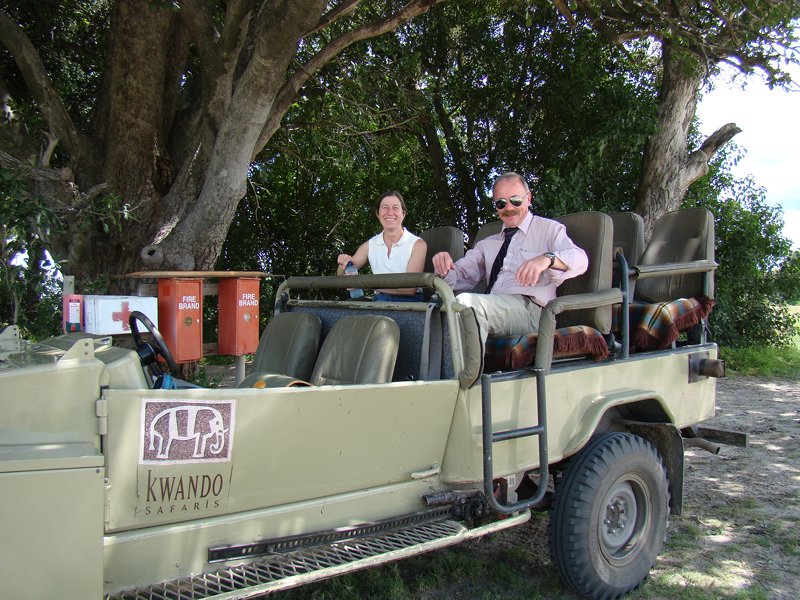 Airport transport
So, as we touched down 'exactly on time' at the Kwara International Airport, a 3,000 foot dirt strip, our transport (jeep) awaited us. We taxied into the terminal which was a table on the grass under a sausage tree and a fire extinguisher. Our personal guides were waiting for us to embark on the 10 minute drive to the camp. There were all our old friends and some new ones. The usual welcome drink is a refreshing chilled fruit punch. They knew that they would be wasting their time with that. A lady was there with two glasses of Savanna cider on a silver tray. It was not our first that day as Mack Air also knew our tipple and had kindly provided the said refreshment in Maun.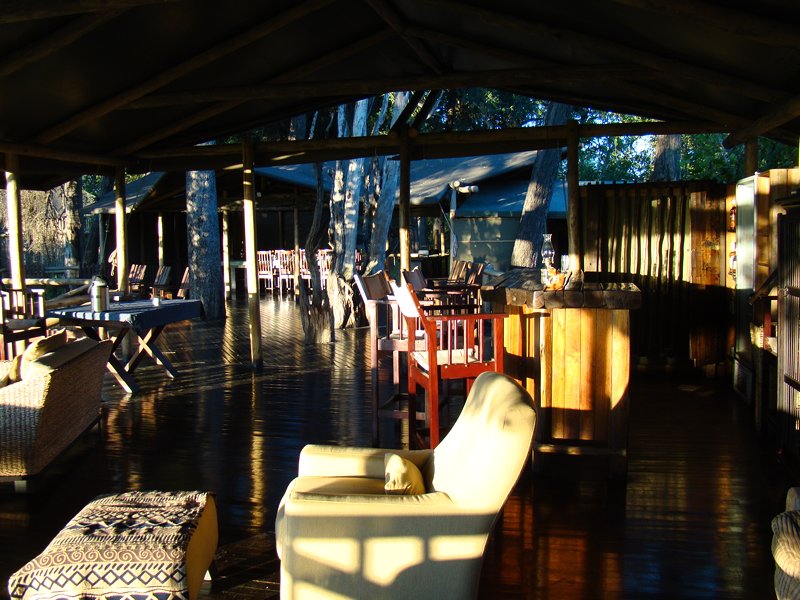 Canvas and wood construction
Our bags were taken to our favourite tent and we propped up the bar to catch up on all the news of their summer (December to February). That is their rainy season with the majority of their rain for the year falling at this time. When the skies clear temperatures can rise as high as 40 degrees with humidity up to 80%. For this reason it is obviously the low season for tourism. It is a time for renovation and repair mixing inside jobs with outside jobs depending upon the weather. The camps need constant attention in this climate due to their wooden, canvas and thatch construction. These holidays are in the luxury sector of the travel market and standards have to be and are kept high. The life cycle of a camp is usually just 10 years. After that time they are razed to the ground and completely rebuilt. If it is decided not to rebuild the bush is left exactly as it was before the camp was built. During the construction no trees are brought down (that is the elephant's job) and all buildings have to blend in with the environment.