The Experiences of Paul & Henrietta Delahunt-Rimmer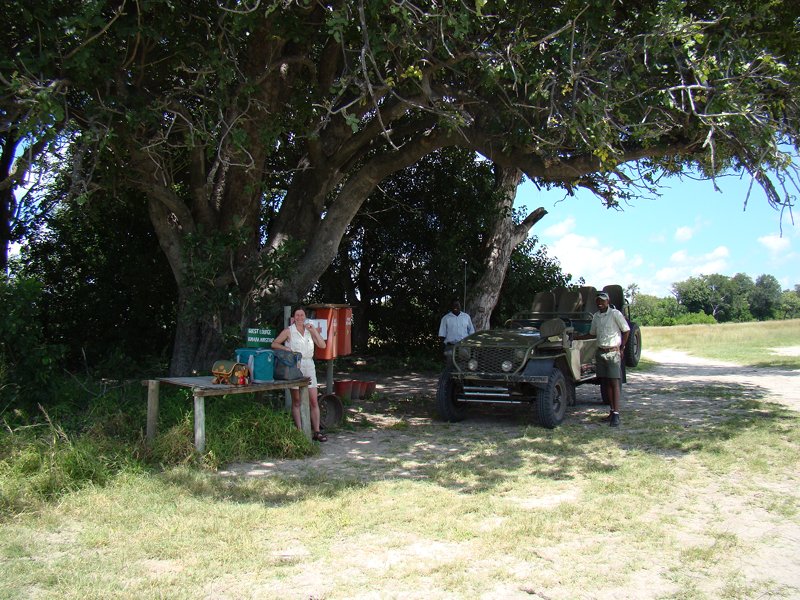 The departure lounge, Little Kwara
After fond farewells and the usual threat to return we were waiting at Kwara International Airport for our Mack Air jet to arrive. It was exactly on time, of course. As we are both qualified pilots we really enjoy these transits. Many people are unnecessarily nervous about these small aircraft flights. The pilots are trained to put people at their ease and fly as smoothly as possible and even burn more fuel than necessary by lowering the flaps early to approach a strip as slowly and as gently as possible.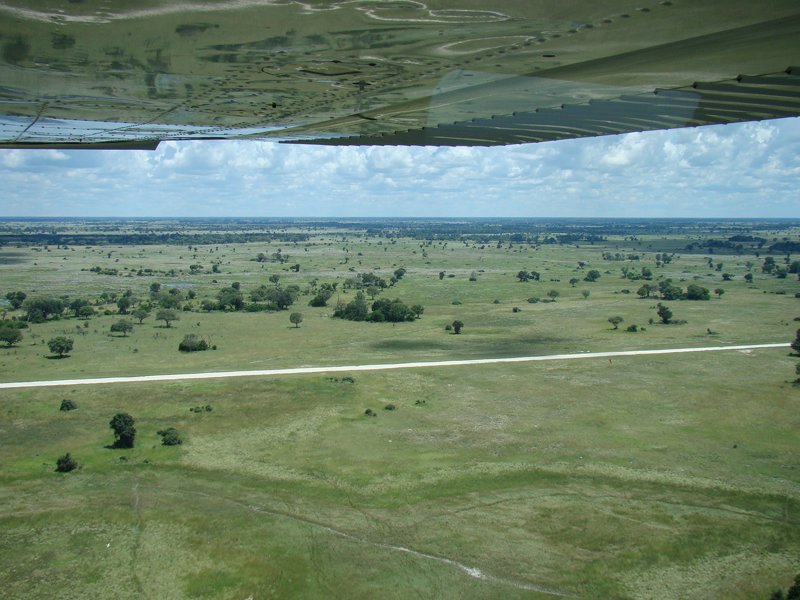 Downwind approach to Nxabega
I used to be in a job where we had to go and survey airstrips in Africa by light aircraft, now this was great fun as there were no other passengers on board. I explained to one pilot about the military manoeuvre of a 'run and break'. This is the fastest and safest way to approach an airfield that is under threat from ground to air missiles. It involves coming in very low and fast over the runway threshold, pulling the aircraft into a hard steep climbing turn and then a tight turn straight onto the airfield. And of course on departure one just has to swing right around and buzz the airfield. They are all perfectly safe and well-practiced military procedures but not to be performed with gibbering tourists on board. Anyway this was a routine flight with two German tourists on board with paper tissues sticking out of their ears, this they seemed to think was going to stop their ears popping. Okay, who wound them up on that one? And it wasn't me!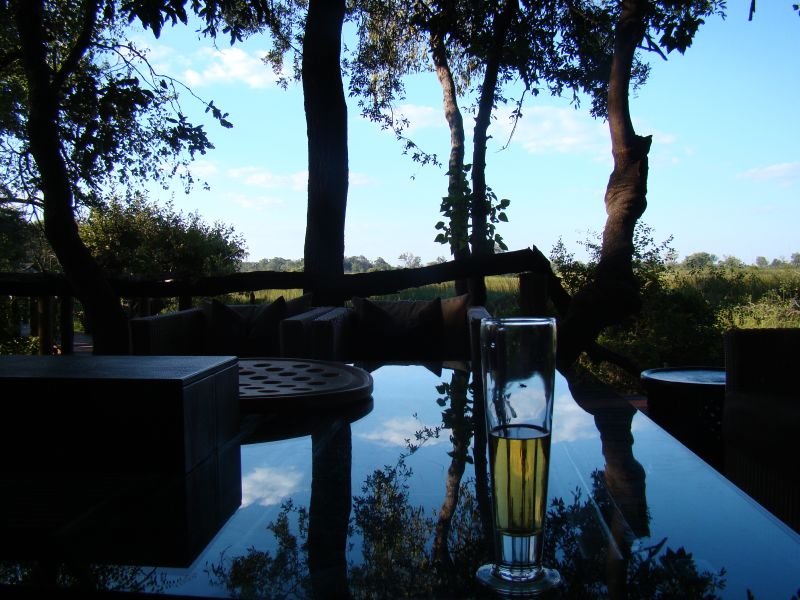 Welcome drink
We arrived at Nxabega camp after 30 minutes to find the usual reception. Two glasses of Savanna on a silver tray. The staff had heard that we were returning, again! The various concessions have singing and dancing competitions held all over Africa every year. Nxabega have an award-winning troop (staff not baboons). They wanted to welcome us with their performance. We have never had this before and thought that it was a new idea for everyone's arrival. It was only later in our stay that we found out that it was a special request from the staff to the management. I have tried this routine, to the embarrassment of my wife, and it is not easy. What a wonderful welcome. The management; a delightful South African couple, Grant & Dimari, had been in the post for a year but they were on leave on our previous visit so it was great to meet them. Joyce, their wonderful assistant manager has been there every time we have visited, poor lady. All the staff at these camps are isolated from their families. The policy is slightly different with each company but it is usually a three month stint in a camp and then three weeks leave. Every camp has its own individual character and ways of doing things.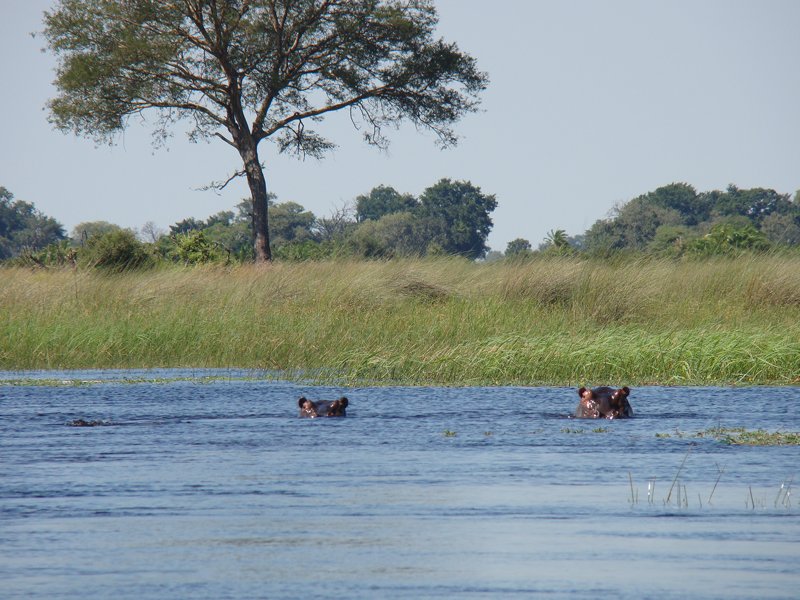 The three stages of surfacing
One thing we like about Nxabega is that when the water is high the lagoon comes right to the edge of the camp. In the floods even further than that! On this visit we watched the lagoon level rise every day as the floodwaters came in from Angola. When we left they were cut off from the next camp about two hours drive away and they lost their airstrip underwater a few weeks later. The policy for lunch at this camp is very flexible. It is individual dining, if you wish, and a buffet tray of a great assortment of dishes is delivered to your table. This is available over a period of a few hours. They also constantly change venues for dinner as we discovered later.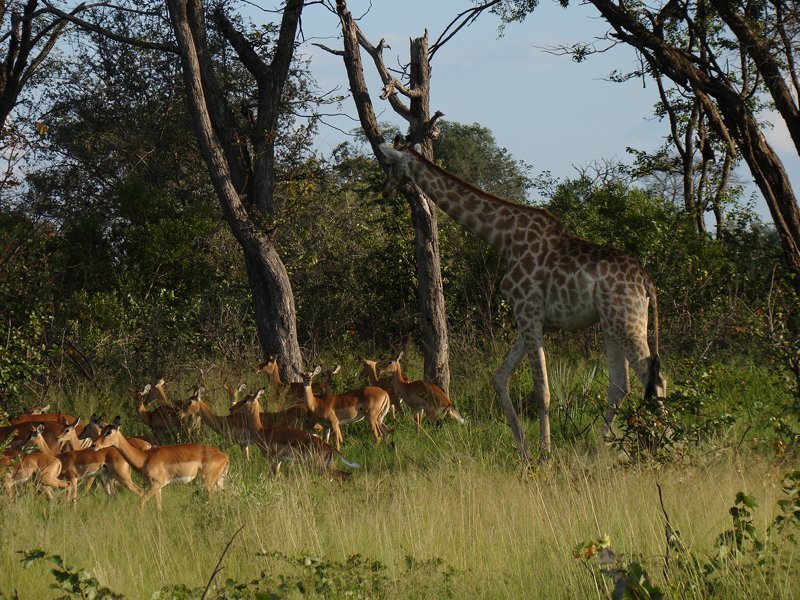 Wildlife in the Okavango Delta
We went out on an evening drive. Our guide at this camp was Master. The game was not as prolific as the previous camp but there were a number of sightings including a herd of impala complete with their 'lookout' giraffe. In 2008 they had a massive bush fire. It is thought that it was started by some fishermen not putting their campfire out properly when they had left. However lightning could have caused it. The fire got extremely close to the camp and they were at the point of evacuating guests when they managed to get it under control. Although horrific bushfires are part of the ecosystem. They remove the slow-growing but dominant trees and shrubs, opening up space for other species. They are also important in returning nutrients that were previously locked up in plant biomass back to the soil. As such plants have adapted to survive under these conditions. Although most animals manage to get away there are of course a few fatalities.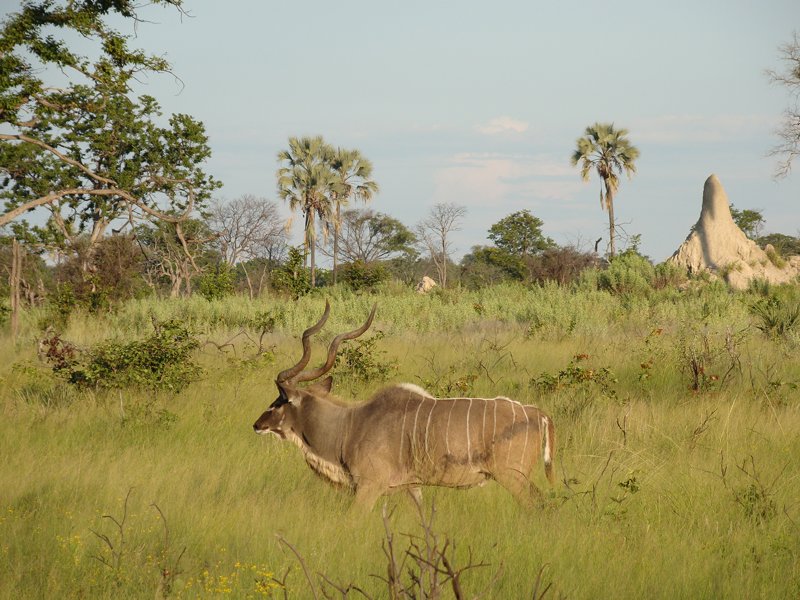 Greater Kudu by termite mound
However until the vegetation re-grows it does mean that in this area there is a dearth of wild life. One of our few sightings that evening was a large male Greater Kudu (Tragelaphus strepsiceros). He was being challenged by a junior male. He won on this occasion but it would only be a matter of time before he was ousted out of the herd and the younger male would take over.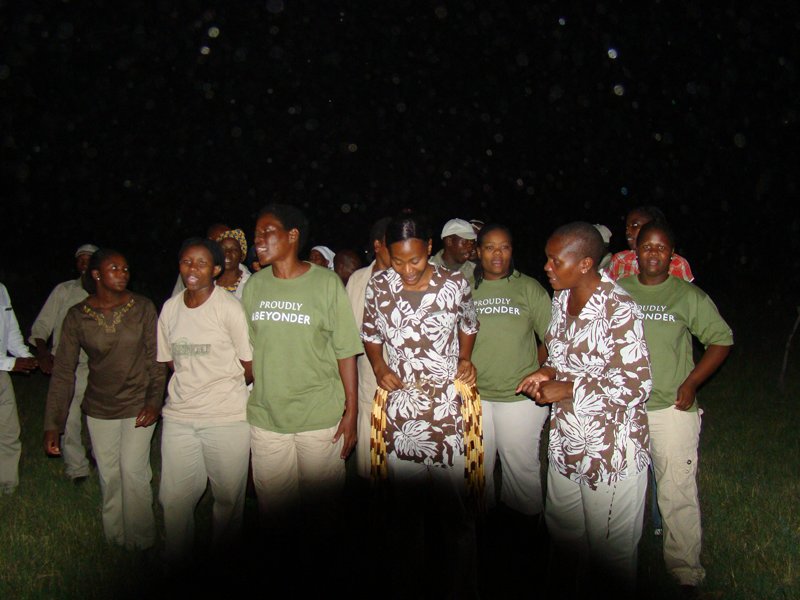 Botswana nightlife
We stopped for the inevitable sundowners and then continued on a night drive back to camp for dinner. We never got back for dinner. As we approached camp we could see a small village lighting up the night sky that hadn't been there earlier. As we got closer we could see a huge campfire and storm lamps placed around a clearing. There was a large dead tree in which hung (we later learned) 100 lamps. Underneath the management had set up an enormous barbeque. There was a table set up with flasks of hot water, soap and towels to wash our hands. Another huge table housed the bar. Chairs and tables had been set up complete with tablecloths, cutlery and wine glasses. At the far end was four of the camp kitchen staff cooking fish, steak, chicken and vegetables over roaring hot coals. Another table contained salads and breads. Their dance troop sang and danced for us. It was all an incredible surprise. And not our first at this camp.