The Experiences of Paul & Henrietta Delahunt-Rimmer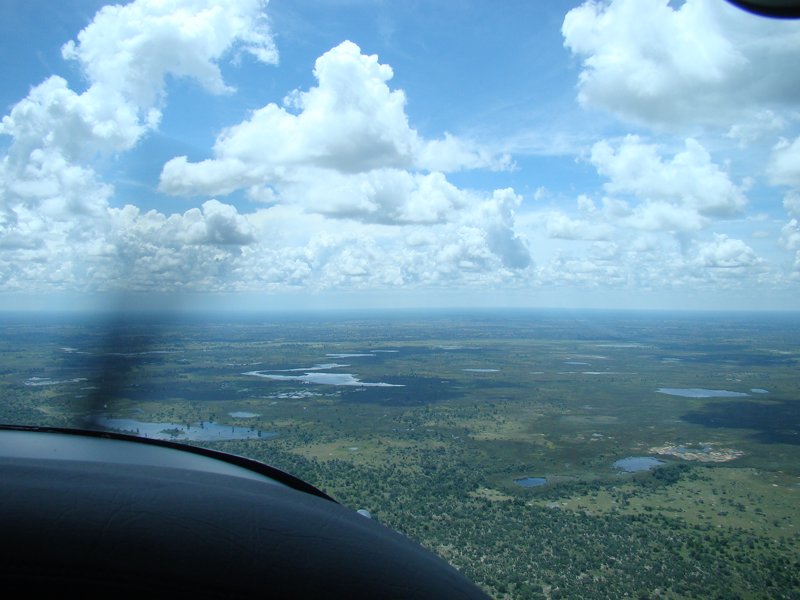 In flight over the Delta
Maun is the 'capital' of The Okavango Delta and where most of the light aircraft flights depart from to fly to the various camps. Construction has started to build a new runway of 3,700 metres to enable them to take intercontinental flights but the time scale for completion is uncertain. After an initial delay it was scheduled for completion in 2011 but in June 2009 further delays were announced so the actual completion date is currently unknown. There will also be a new control tower and terminal building. Until this is complete the usual starting point is Johannesburg. From here Air Botswana operate a regular service to Maun with a small but modern fleet of medium sized aircraft. The flight time to Maun is 90 minutes. The companies that operate the light aircraft to the camps coordinate accordingly with this arrival and there is usually only a very short wait for your onward flight into the bush.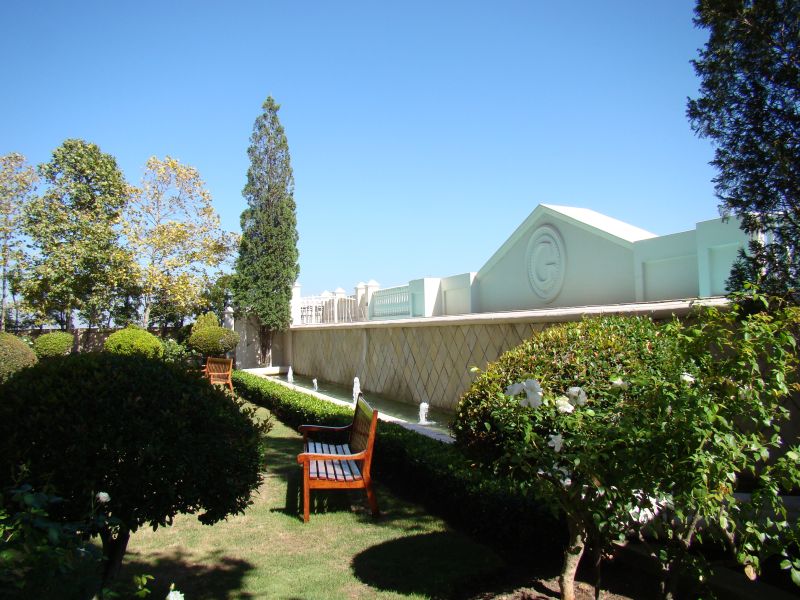 The Grace Hotel Rosebank
Unfortunately most international flights arrive in Johannesburg after the departure of the Maun flight necessitating a night's stop there. Our agents found us a wonderful hotel set in the heart of stylish Rosebank, a tree-lined cosmopolitan suburb about 40 minutes drive from the airport. With its classical standards of excellence dating back to an era of gracious living and attention to detail it is a fantastic start to a safari holiday. It has deservedly received countless international awards from organisations including Condé Nast Traveller and Diners Club. Their travel office can arrange a chauffeur driven car to pick you up from the airport and take you back the next day.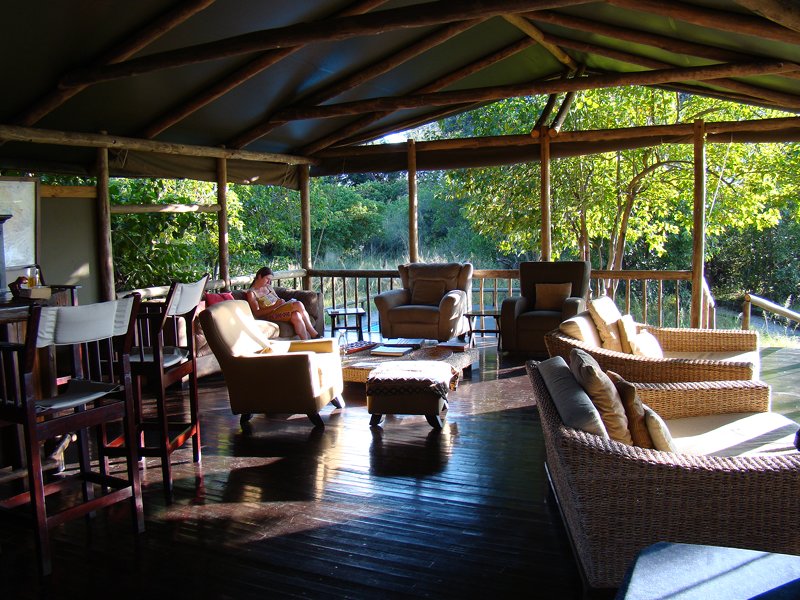 Lounge area, Little Kwara
We cannot stress enough how important it is to select the correct travel company to make the arrangements. Typically a two week safari tour will include four different camps and five separate light aircraft connections. The flight connections also have to tie in with the flights between Johannesburg and Maun. These days it is easier and often cheaper to arrange your own flight to Johannesburg from anywhere in the world. From Johannesburg it is essential to employ a reputable and most importantly an experienced travel company who specialise in Southern African safaris. The camps are very small and in great demand particularly in the high season.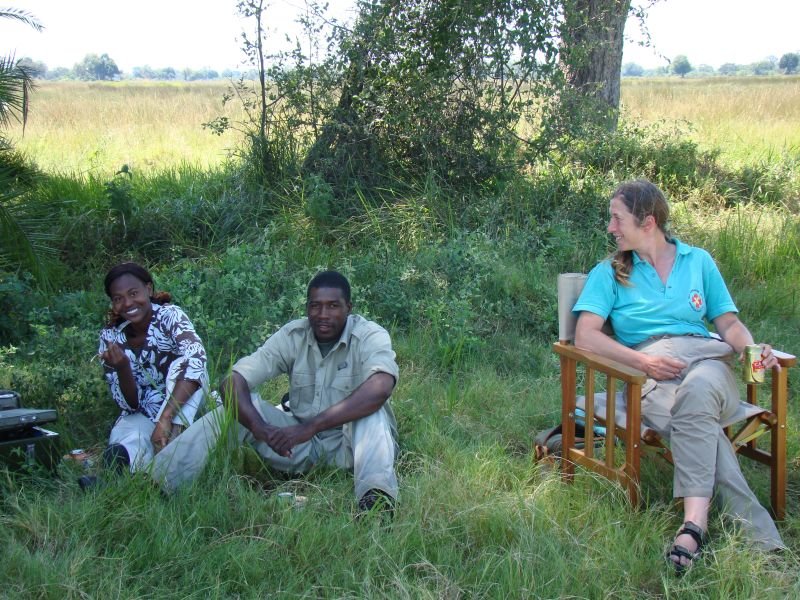 No room at the inn
Coordinating availability and to avoid having to spend nights back in Maun between camps is a job for the experts. Only these companies have an arrangement with the concessions to hold tents for a few days whilst your programme is formed. There is then the job of tying in these bookings with light aircraft flights to ensure a smooth running programme. A large international tour operator is not usually the answer. We were at one camp where a honeymoon couple had used one of these companies and arrived by light aircraft only to be told that 'there were no rooms at the inn'. They were dropped off in the middle of the bush with nowhere to stay. They lost two days of their honeymoon and experienced considerable stress whilst the camp managers tried to sort out the mess and get bookings at other camps for them and aircraft to transport them. It also cost them considerably more at a time in their lives when they could hardly afford it. This mess was not the fault of the concession owners but they very kindly helped them, as their travel company had no idea where to start.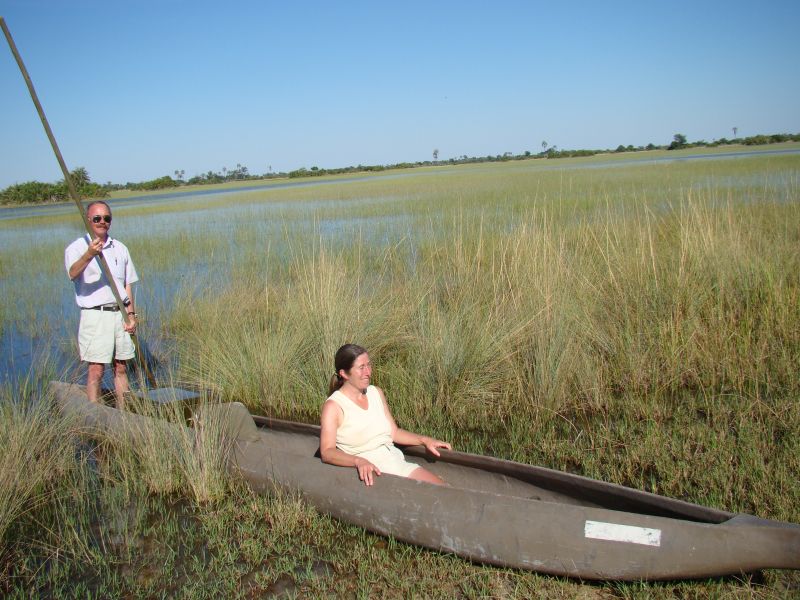 'Ship confined to port'
These specialists do not need to be based in your own country and indeed we use a very experienced organisation in the U.K. even though we live in Greece. In complete contrast, before one holiday we became stuck on our island due to unexpected storms and all ships were confined to port. All flights, camp bookings, transfers and the hotel in Johannesburg had to be changed. This was achieved in 24 hours and the whole holiday, when we eventually got away, went as smoothly as always, albeit slipped three days but at no extra expense. That is a demonstration of a specialised safari company at work. These holidays are expensive, one has to accept this, but don't try to cut costs by using anyone but the experts.