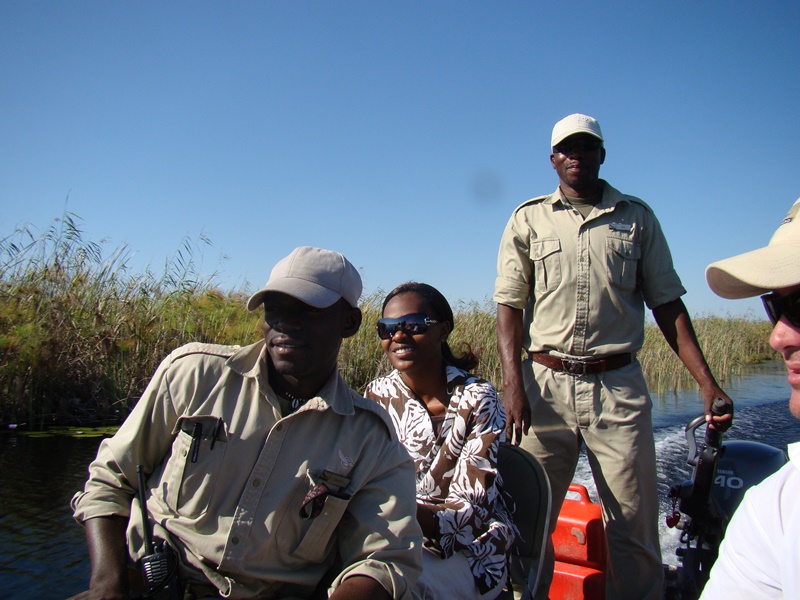 Discovering the Okavango Delta
The management (Grant and Dimari) were jealous after we recounted our exploits from the day before. They wanted to go out exploring as well. They are normally so busy either maintaining the camp in low season or looking after guests in high season they rarely get a chance to go out. They asked if we would like to go out again in the boat but even further. Silly question. They asked if we minded if they came as well as the camp was so quiet. Another silly question. Every sunrise and sunset in the bush is spectacular. That morning the sunrise was particularly stunning. We met at breakfast to discuss plans. Unfortunately that morning they had just heard that the government health inspector was arriving by helicopter that day and Dimari would have to stay behind to supervise. These no notice inspections are very thorough and indicative of the very high standards demanded by the national government at these camps. They do not only check hygiene but also ensure that all camp waste is disposed of in the approved manner. They also check sanitary standards and the disposal of wastewater and well as many other points. It is a full day inspection and failure would result in the camp being closed with no questions asked. Needless to say they passed with flying colours but unfortunately that was Dimari out of play for the day.
Again we had said just a few sandwiches would be okay, but no. They only have one standard and that didn't comply. We set off in a boat loaded with tables, chairs, picnic baskets, bar boxes, tablecloths and glasses. Guide and tracker, us, Grant (complete with swimming trunks and towel) and Masego. Well, we couldn't be expected to serve ourselves, could we! The channel was a bit easier this time as we had already passed through it twice. We think however that Grant was a little shocked to see the treatment the engine got and was thinking of his maintenance budget.