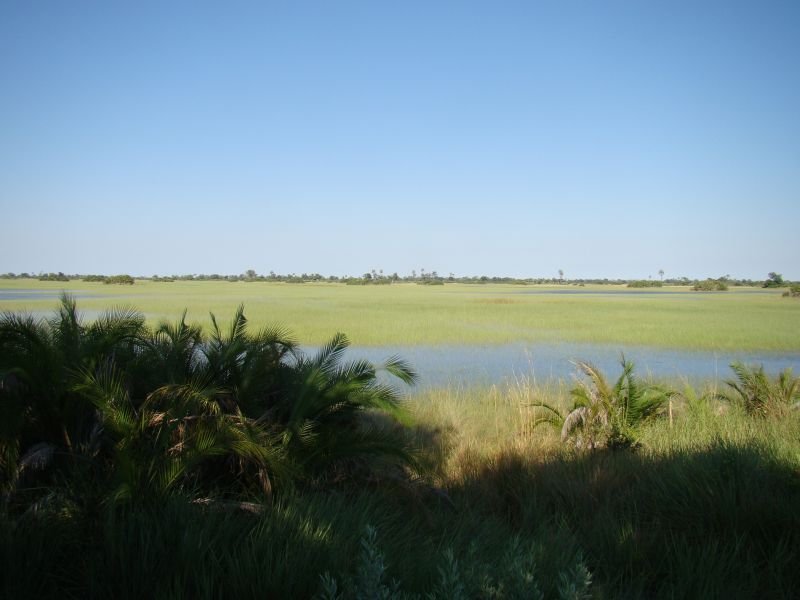 Seasonal floodplain in flood
By 1910, with the changing political situation in Africa and the formation of the Union of South Africa, the British planned to transfer the Protectorate to the Union. However, for many reasons the Batswana did not want union with South Africa and wished things to stay as they were. The war years saw many changes politically in South Africa, so had the attitude of the British towards South Africa, and by 1955 they had changed their minds about handing over the Protectorate to them. Between 1955 and 1966 was a period of gradual progression towards independence; in 1961 a legislative council was set up along with an interim constitution and limited elections.
Local politics soon developed rapidly and saw the more radical groups gradually being supplanted by the more conservative Botswana Democratic Party (BDP) Financial grants from the British allowed for the necessary development to take place prior to full independence including the construction of a new administrative capital at Gaborone. There was at this time a high degree of consultation and co-operation between the people of Botswana and the British government.
The first full elections took place on 1st March, 1965 and a new administration was set up with the retention of only a few senior British civil servants. On 30th September, 1966 the fully independent Republic of Botswana emerged with Sir Seretse Khama (Khama the Great's grandson) as its first President.