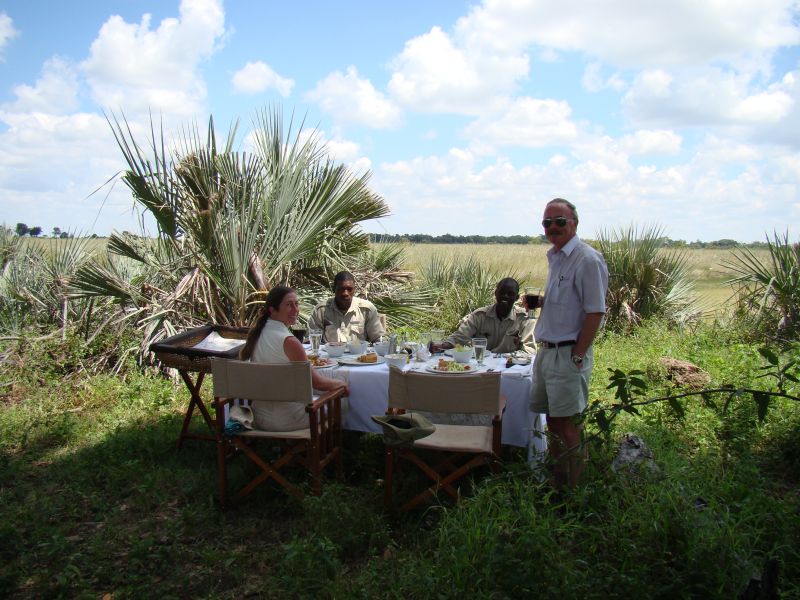 Paul & Henrietta Delahunt-Rimmer in Botswana
About Us
Paul and Henrietta Delahunt-Rimmer are both retired Royal Air Force officers. Paul completed 16 years of military service retiring as a senior officer and then went on to become an airline pilot. Henri spent 8 years in the Royal Air Force initially as a nursing sister and then made the unprecedented step to become an Air Traffic Control Officer. Paul spent most of his time in the Royal Air Force on Royal and Ministerial duties and first discovered Botswana when taking a senior member of the Royal Family to Maun in the 80's. Although they had both been on many safaris before in Africa they had always wanted to go to the Okavango Delta. 2007 saw their first of many safaris there.
Since 1999 they have been running an operation in Greece, Special Interest Holidays. This is based on the small remote island of Amorgos in the Cyclades. Their company is devoted to eco-tourism and the preservation of the environment. Practicing what they preach they live up in the mountains. They have no road, mains electricity, water, sewage or gas. The local people think that they are slightly deranged but are impressed by their dedication.
They see their visits to Botswana as fact-finding missions. This third world country could teach the so called developed world many aspects of eco-tourism. They return to Greece with lessons for the authorities there who seem to want to destroy their islands until no one finds them attractive anymore. They applaud the government of Botswana whose policy of low impact high income tourism has been correctly seen as the way forward for the tourism industry there.