The Experiences of Paul & Henrietta Delahunt-Rimmer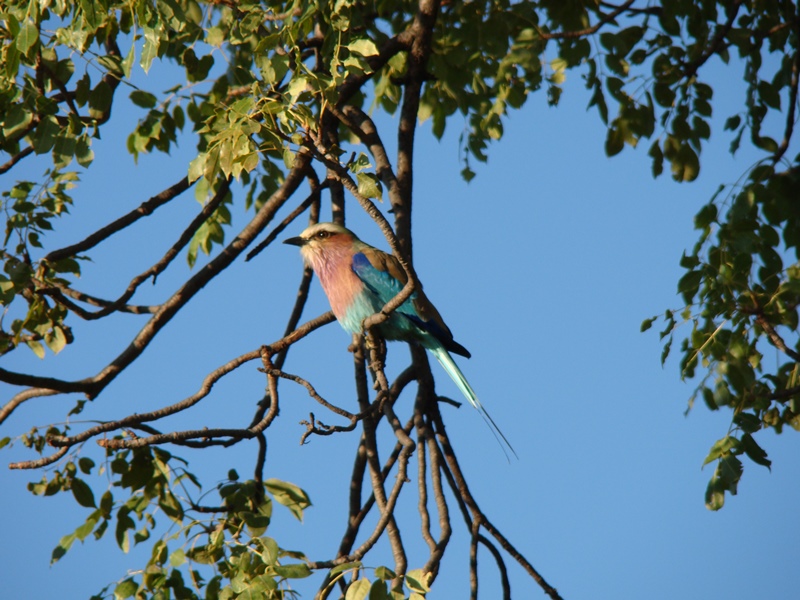 An African lilac breasted roller
On our last day at Little Kwara we wanted to go 'walkabout' again. Only this time we wanted to really go into the bush not just around the lagoon, which we have done many times before in the past. We started off from the lodge at 08:00 exactly complete with Stephen with his 'shooter'. We set off again at 08:15 after we had been back again because he had forgotten his radio! This was going to be a relatively long walk. We had gone about one kilometre into the bush when Stephen began to get concerned. He asked, 'what can you hear'? We replied, 'birds'. 'Yes', he said, 'but listen to their calls'. I said, 'it just sounds like tweet, tweet to me'. I don't think he was very impressed with my observation especially as he had spent so much time tutoring us about how to listen to the bush. He explained the different calls from different birds and that they were all alarm calls. There was probably a large cat in the area, but where? Which way should we go to avoid an encounter? There were some springbok grazing a little distance away that didn't seem to be concerned so my thought would be to head towards them.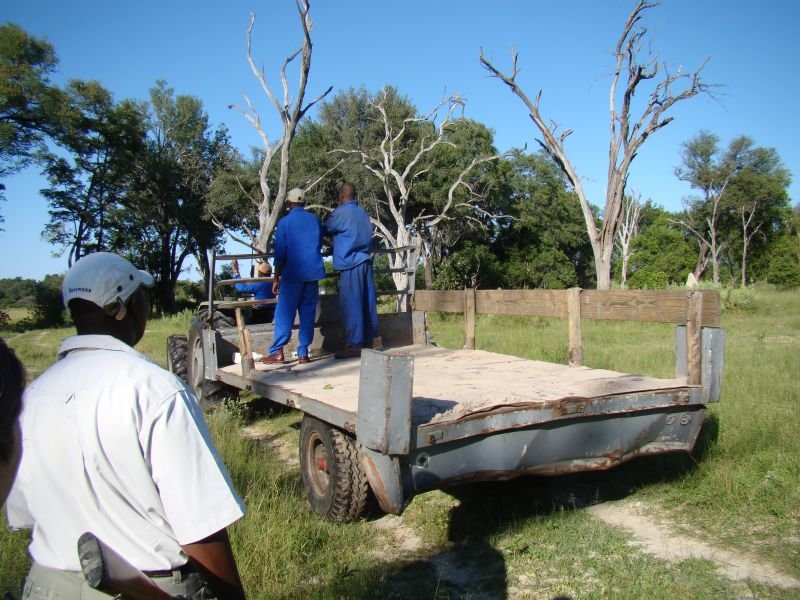 Hitching a lift
However at that moment a tractor and trailer from the camp came down the track. They were collecting wood for the campfire. Just to be on the safe side we hitched a lift. They were going roughly in the same direction that we had intended going anyway. As we rounded the corner there was our lookout the 'big cat pointer'. A giraffe staring intently in one direction. Now we knew which way not to go. We thanked our driver, he insisted on having his picture taken with us, and then we took to foot again. In these small camps there are many people behind the scenes that clients hardly ever see or speak to. The managers, guides and trackers, housekeepers, waitresses and some cooks are there to be seen and talk to the visitors. The others are to keep a low profile and ensure that the more menial tasks are carried out. We tend to rebel over this and try to mix with all of the delightful staff.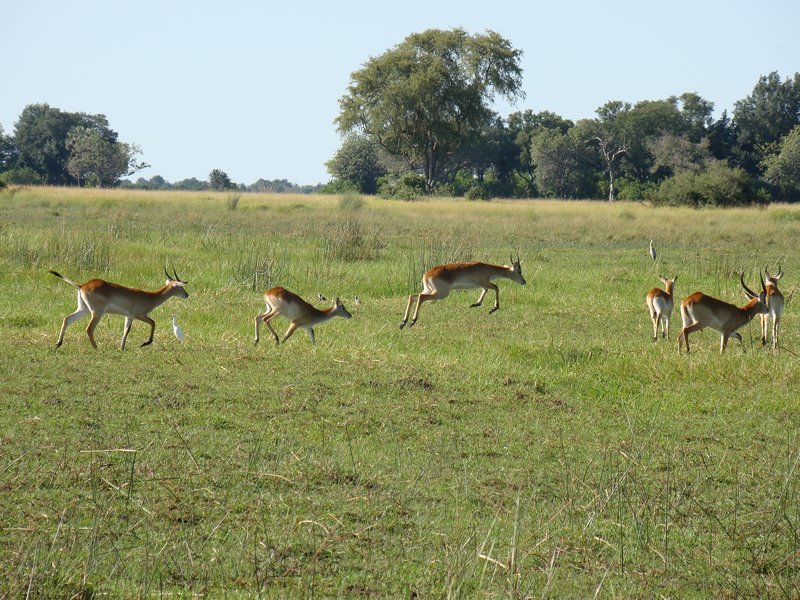 Impala
We eventually came out of the bush in one piece by the lagoon where a large herd of impala (Aepyceros melampus) were grazing. This slim and elegant antelope is about 90 cm at the shoulder and weigh up to 50 kg. Only the male has horns which can grow up to 60 cm long. This was their typical terrain, woodland with a plentiful supply of permanent water. One interesting fact about the female impala is that she can suppress birth for up to one month in times of drought.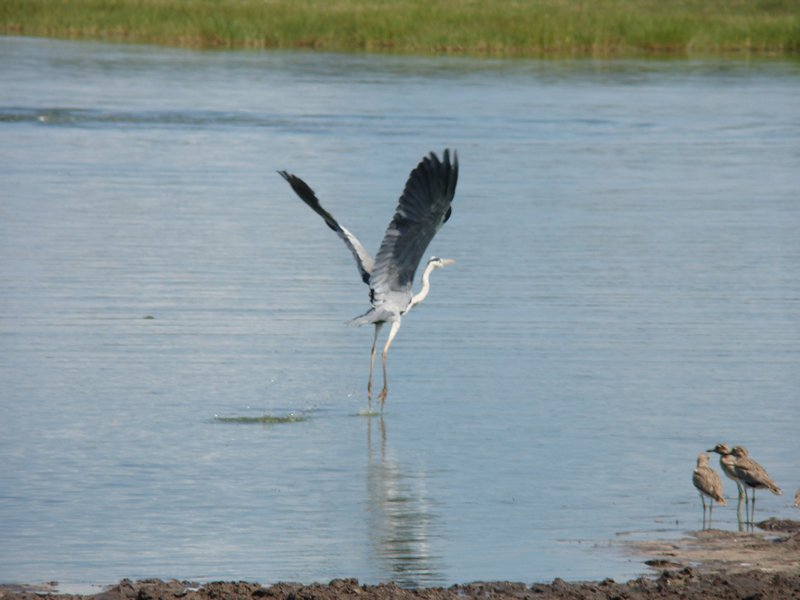 Take off
They are of course prey for the large cats and wild dogs. All the same water birds were there, as always, a few crocodiles on the edge and of course many hippos. On our way back to Little Kwara we had to pass the main Kwara camp. Camp etiquette dictates that one can't just bounce out of the bush into a camp unannounced, we radioed ahead and the cold Savannas were on the bar waiting for us. We have stayed at this camp before and it was nice to see some more old friends. We fancied a quiet evening and felt that there was nothing more we really wanted to do apart from relax before moving onto our next camp.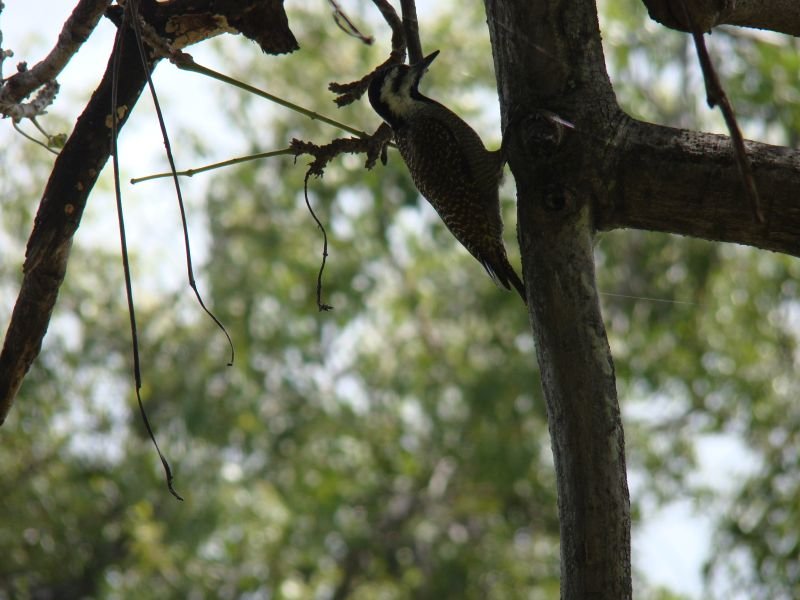 Woodpecker
There was a woodpecker chipping away at a tree by the lodge area. A squirrel came right into the bar. A troop of vervet monkeys came through and had a drink from the swimming pool complete with chlorine! A kingfisher also dipped into the pool.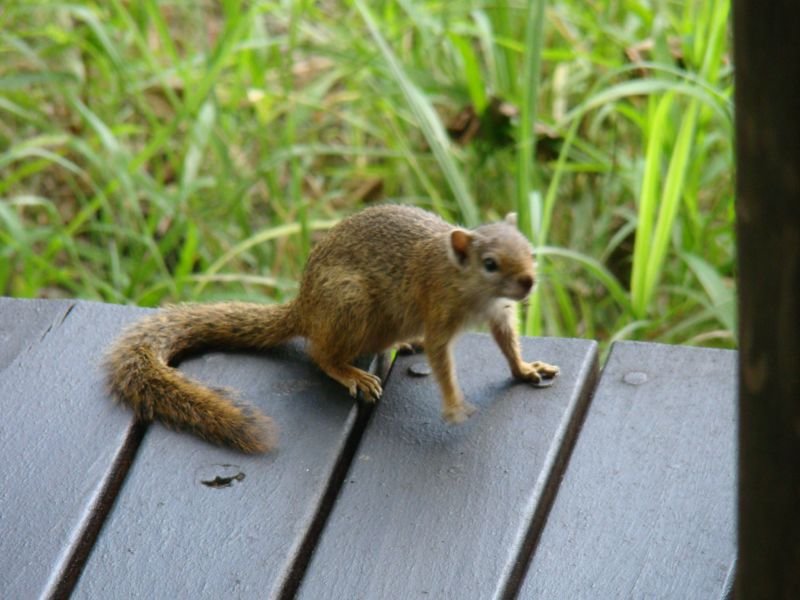 A drinking friend
A baboon came by and sat on a mound by the lodge observing us on one of our 'bar safaris'. Baboons (Papio hamadryas ursinus) are the largest primates in the region. Males weigh up to 40 kg whereas the female is about half this size. Troops can be between 30 and 100. They have incredible social skills. It is just like the House of Commons in more ways than one! They sit up in their trees have long debates negotiating their future and then a big row will ensue when the ranks are broken. They curry favours with each other but there are no expense scandals! They are omnivores, eating; fruit, pods, eggs, hares and even newborn antelope.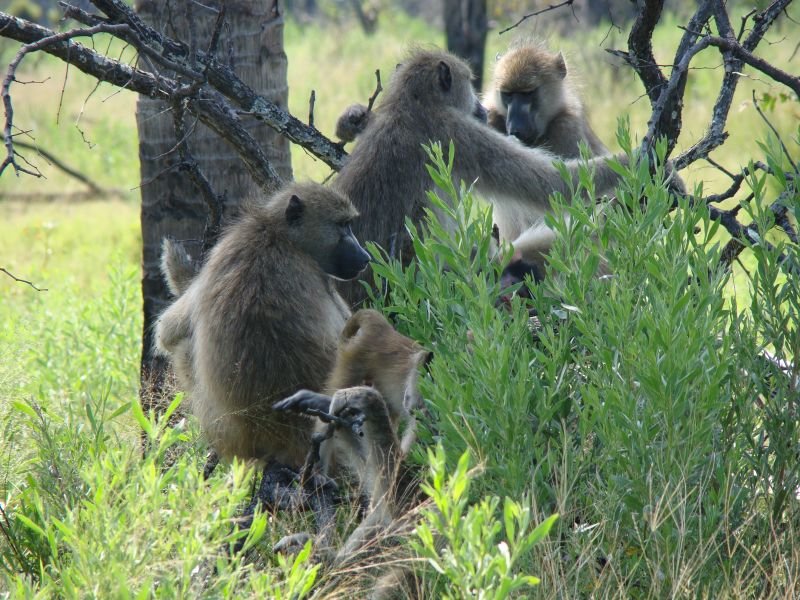 'I'm not doing that again!'
The baboons are a real problem to the staff. They are incredibly intelligent and very naughty. All food has to be guarded. No cartons of juice can be left out of the fridge. They worked out very quickly how to use a door handle on the tents so doorknobs were fitted hoping that they would not know how to twist them – wrong! Nowadays security chains are fitted to the outside however it will only be a matter of time before they work those out. Usually it is okay to leave bottles on the bar but on one occasion a baboon grabbed a bottle of Tabasco and disappeared up a tree with it. He managed to unscrew the top and put the open bottle to his mouth. The staff observing thought that this could be very entertaining. It was, he consumed the lot, dropped the bottle and swung off through the trees seemingly completely unaffected. What happened around the corner no one knows!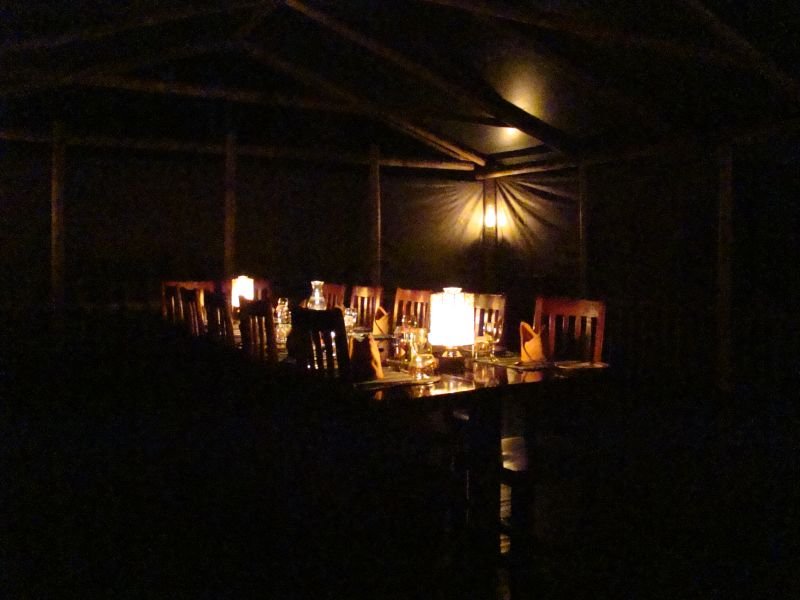 Wining & dining on a Botswana Safari
In a way we were glad that we hadn't gone out because as soon as the vehicles had set off the heavens opened. The storm only lasted ten minutes but the other guests had to sit soaking wet for a four hour drive. They arrived back very cold and wet but cheerful. They were met with brandies. Dinner arrangements vary from camp to camp. As Little Kwara is so small the management prefer all guests, management and guides to sit down together at a large table. Although this is inflexible it does provide for a very sociable occasion. It is a set menu but anyone with special dietary requirements are catered for. This is only the fourth meal of the day not including snacks with morning coffee and sundowners. The cuisine at these camps is amazing. It is not traditional Botswana fare. This, although nutritious, would not be acceptable to the European and American guests. There is a different menu every night which all has to be planned by the managers and chef a week in advance to order the ingredients. Dried and tinned goods can be brought in by truck which takes 24 hours from the capital of the Delta, Maun. It can take longer depending on floods and indeed sometimes it is not possible at all. Most fresh goods are flown in. Some meat, for example chicken and the world famous Botswana beef, is local. Many of the fruits and vegetables originate from South Africa. The standard and the quantity of the meals is outstanding. Most of the wines are also South African and of course are excellent. After dinner and a long day most people go back to their tents, always escorted by a guard after dark.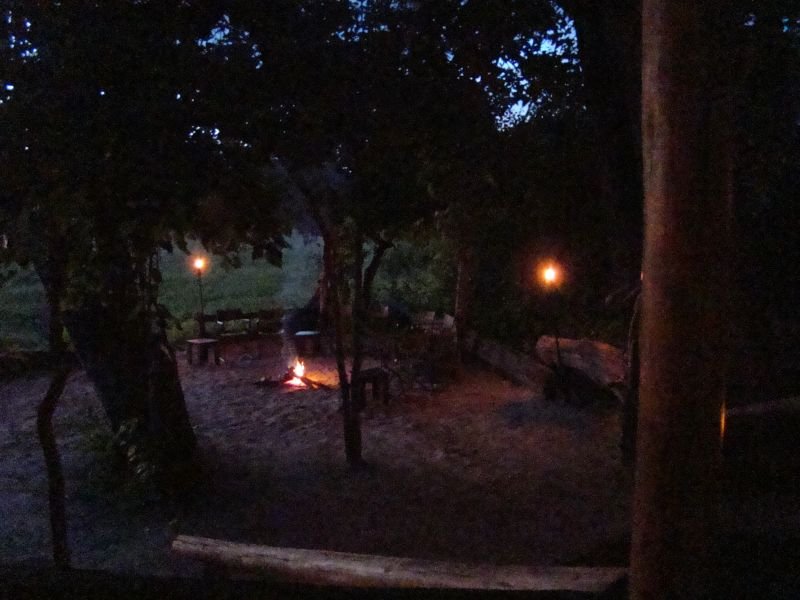 Around a safari camp fire in Botswana
We like to sit by the campfire with a coffee and brandy and swap war stories with the guides. It is amazing what they will tell you out of earshot of other guests languishing after a large satisfying meal. They know that we will not be put off by their stories of close calls, it just makes us want to get out there again on foot. If confronted by a leopard you do not look it in the eye but stare at the ground in front of it. If confronted by a lion you stare it out. One guide did this with a client cowering behind him for five minutes. It was a large male and it was so close he could smell its breath. One client on a bush camp where you are in a 'proper' tent didn't fasten the tent flaps properly and a hyena took their toddler as an evening snack. It is not unknown for members of staff to be taken out when going back to their staff accommodation without the luxury of a guard. One we heard of was taken up a tree by a leopard as its dinner. There was a roar of a lion in the distance; it was time for us to go to bed.